Voyagers®Zambia Limited - about us
Voyagers® is a Zambian Travel Company providing turnkey travel solutions from eight key office locations. Voyagers® Zambia provides technology driven travel services, while maintaining personalised customer service based on our established roots and relationships
Voyagers® - our history
Voyagers® was founded in 1987 by Marion and Howard Gatchell. Marion was a highly successful Travel Consultant and Manager with over a decade of experience in the Zambian Travel industry at this stage having worked for TG Travel, Steve Blagus and Bonar Travel. In fact Marion's travel roots go further back to when her father George Jerrard and Howard's father Doug Gatchell started an Airline based in Ndola called Zamair which ran 13 aircraft across Zambia. This platform served as a base for Marion, a 'Round the World' ticket when she was 21, ignited a lifelong passion for travel and discovery that found expression in Voyagers.
Howard Gatchell FCA is a qualified Chartered Accountant and has extensive business experience in Zambia and the region; in the early seventies Howard ran several businesses before selling them and joining Lonrho a London based Plc. Whilst at Lonrho Howard ran Teal Record Company and Vitratex Paints Ltd before heading up the Lonrho Brewing Division which included National Breweries and Northern Breweries in Zambia and Chibuku Products in Malawi. In 1998 after selling the Brewing Division to South African Breweries Howard joined Voyagers® full time in 2000 initially working mainly in the Car Rental side of the business.
Grant Gatchell's remit includes elements of Strategy, Marketing, IT and General Management.
Voyagers® quickly expanded beyond its Ndola base and moved from being a ticketing agency to include incoming tours and holidays. Operating offices now include Chingola, Lusaka, Kitwe, Solwezi and Livingstone.
Voyagers® started to offer incoming Tours late in the 1980's becoming one of the first Zambian firms to visit the World Travel Market in London and working with many of the Safari Industry startups of the time including Norman Carr Safaris, Tongabezi and Robin Pope Safaris.
In 1995 Voyagers® Rentals was started with a single car to provide Car Hire services. Voyagers® Rentals has grown steadily since then and now offers a wide range of vehicles and locations throughout Zambia. Voyagers® Rentals held for many years the franchise for Imperial in Zambia before becoming the Europcar Franchisee for Zambia.
As Voyagers® has grown it has remained close to its family roots and values, we have an extremely low rate of staff turnover and pride ourselves on the long term relationships that we have built with clients, suppliers, staff and the communities in which we operate in. We are proud of our Zambian heritage and our contribution to the Tourism industry and the country as a whole.
Voyagers® group comprises of 120 employees and is one of Zambia's leading firms. We are proud of our reputation for our integrity, honesty, and high standards.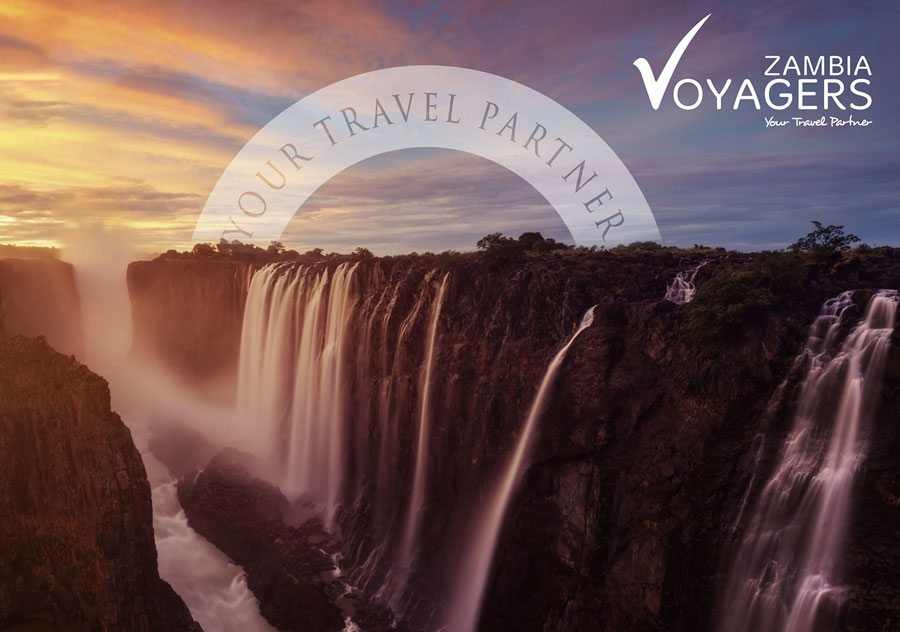 Voyagers® - our vision
Voyagers® is constantly embarking on exciting new programs. We continually upgrade our software and customer service infrastructure to improve client information access and dramatically improve the technology that facilitates communication between ourselves and our valued clients, we are very excited by our new Voyagers® Orange and our Corporate Self Booking Tool Nova.
Innovation extends to newly released supplier interfaces and marketing support enabling suppliers manage their offering through us online. We also offer customer and supplier support which includes Accounting Interfaces, detailed reporting, travel management and expenditure optimisation.
Our Destination Management team are building up and extending their operations into new market segments that will support those organizing Conferences and Events in Zambia, offer new and exciting Tour products and opening up previously difficult to reach areas of the country.
Voyagers® Rentals has expanded its support of Tourists and Travellers through its new Roadside Assistance membership program – www.RZAM.co.
Voyagers® Promise: We will continue to put our clients first, bringing you the best that Zambia and the rest of the world offers at the best prices and with as many options as you need.
Voyagers® and our place in the Zambian Tourism Industry;
Voyagers® is in many ways a unique Zambian company – we are not tied to any one lodge or camp – we are independent travel advisor and we are proud of our professionalism. Our senior management team shares over 100 years of Zambian Travel Experience between them. We aim to make the whole of the Zambian Tourist experience open to the world, tailoring our products to maximize value and experience for our clients. We originate from all over Zambia – our team members come from across the country and with offices in: Livingstone, Lusaka, Lusaka Airport, Ndola, Ndola Airport, Chingola, Solwezi and Kitwe we have the widest geographical foot print of any travel company in Zambia.
All of this gives us the perspective to offer the best of Zambia with an unbiased standpoint. Whilst we are independent of any other property or company we have been a key player in the development of the Zambian tourism scene working closely with every major provider of accommodation and activities in the country. We are proud of our association with other service providers and our consistent support of the Government's efforts to develop the industry.