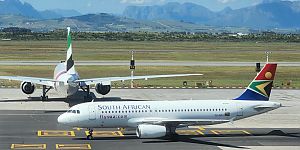 SAA expands fleet to match growing network schedule
- As the peak holiday season approaches, SAA is bringing into service an additional three Airbus A320 aircraft, bringing the total number of A320s to five to support the demand. The first of these was delivered on September 25, and the remainder, every month from then.
SAA currently operates seven Airbus aircraft - two A320s, three A319s, an A330-300, and an A340-300.
Besides the additional capacity of the A320s, the airline has over the last two weeks increased the aircraft size on two of its busiest routes: Cape Town and Harare. The Harare-Johannesburg route is also now serviced by the larger A330 aircraft on three of its daily frequencies.
Now SAA says it's replacing its A340-300, which it uses as an additional aircraft to support the schedule during required fleet maintenance or when capacity demand requires the deployment of a larger aircraft. It will be replaced by a similar capacity aircraft.
The airline says it will exit the A319 fleet in 2023.
Says SAA Executive Chairman, John Lamola: "The addition of extra seat capacity in the market enables the achievement of an equilibrium between supply and demand in the market that affects the pricing of air tickets."
"As we increase fleet size to match the needs of the growing network schedule, we are encouraged that our strategy to cautiously re-enter markets abandoned due to the COVID pandemic has served us very well during the past twelve months, and we will continue to follow that cautious risk-adjusted trajectory," says SAA COO, Tebogo Tsimane.