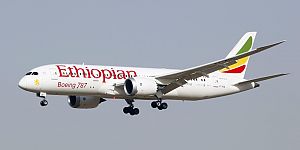 Ethiopian adds Zürich and regional flights
- Ethiopian Airlines will add Zürich to its global network with thrice weekly flights from Addis Ababa via Milan Malpensa. The airline is also expanding its regional network with direct flights to Bulawayo and Botswana's capital, Gaborone.
The first flight from Addis Ababa to Zürich will take off on October 31, with flights on Mondays, Wednesdays, and Fridays. The route will be served by 315-seat B787-9s, with 30 seats in business and 285 in economy.
The schedule is as follows:
Addis Ababa to Milan Malpensa: ET736, 00h15-04h50
Milan Malpensa to Zürich: ET736, 05h50-07h00
Zürich to Milan Malpensa: ET737, 20h30-21h40
Milan Malpensa to Addis Ababa: ET737 22h30-07h05+1
Zürich is the airline's second destination in Switzerland and its 19th gateway in Europe.
Currently, Ethiopian Airlines flies to Geneva three times a week, which will increase to four weekly flights by the end of October.
The launch of the Zürich service brings the carrier's flights to Switzerland to seven per week.
Gaborone and Bulawayo
The direct flights to Gaborone will launch on October 30.
The airline will fly four times a week from Addis Ababa instead of the previous triangular route that operated via Victoria Falls. The flights will operate on Sundays, Tuesdays, Thursdays and Saturdays using a Boeing 737 aircraft.
The schedule is as follows:
Addis Ababa to Gaborone: ET823, 08h35-13h05
Gaborone to Addis Ababa: ET822, 14h05-20h35
On October 30 Ethiopian will also launch flights to Bulawayo via Victoria Falls before returning from Bulawayo direct to Addis Ababa. The route will be serviced four times a week on Tuesdays, Thursdays, Saturdays, and Sundays, returning on the same days.
The schedule is as follows:
Addis Ababa to Victoria Falls: ET829, 08h30-12h10
Victoria Falls to Bulawayo: ET829, 13h10-13h55
Bulawayo to Addis Ababa: ET829, 14h55-20h45